Cr-48 Chrome Notebook - First Thoughts
December 19, 2010
When I got home from work Friday I was surprised with Google's Cr-48 Chrome Notebook at my doorstep. I had signed up for the pilot program that Google was offering, but I really didn't expect to be chosen. Needless to say, I was excited.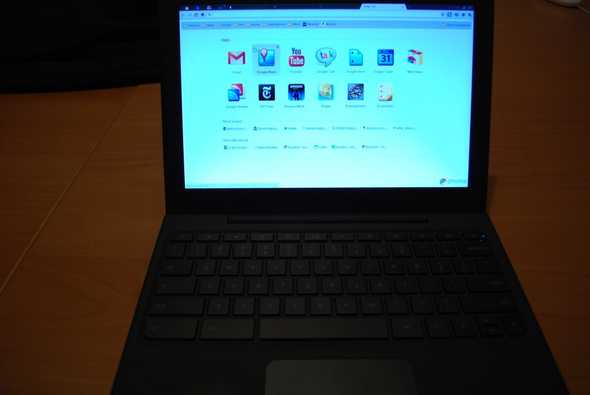 I'm interested in Chrome OS because my current netbook, a Dell Mini 9, has Mac OS X Snow Leopard installed, but I really only use Google Chrome on it. On a notebook, that's really all I need these days.
Soon I'll write an in-depth review, but for now I'm sharing my initial thoughts on the software and hardware that Google gave me.
Hardware
The laptop seems to be pretty well built and sort of resembles a Apple laptop. It's extremely minimal and the keyboard is very nice to use. The screen resolution is 1280x800 and the trackpad is huge.
Pros:
New Tab key instead of Caps Lock
Spacious, browser-oriented keyboard
OS specific keys instead of F1, F2, etc. keys
SD slot included (not yet tested)
Cons:
Trackpad is horrible (though this is most likely a software issue?)
Right clicking is awkward (it involves clicking the trackpad, which doubles as a button, with two fingers)
Software
Well, it's Google Chrome.. and that's pretty much it. But it's awesome that I can log into the machine with my Google user account, and right when the OS starts, I have all of my extensions and bookmarks. All my settings, synced, no setup required. Google's been preparing for that seamless integration for a while, and it shows.
Pros:
It's Google Chrome!
Switching between Chrome "windows" is very nice and smooth. It's almost like having Spaces.
Like the browser, it can remember the open tabs when you shutdown and will restore them at logon.
Ctrl+Alt+/ shows common keyboard shortcuts. Awesome!
Gmail chats stay "always on top" at the bottom of the screen.
Cons:
The system font is ugly. I'm pretty picky when it comes to fonts… I just wish there were more settings to set the font or at least turn on font smoothing.
Runs a little slow at times, but I'm sure that's due to limited hardware.
No support to hide extension icons from the toolbar like you can on the latest version of Chrome for Windows (note: I'm not actually sure what version of Chrome enabled this, but I noticed the option recently).
---